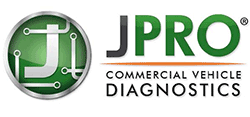 JPRO is a professional diagnostic software.
Includes all features provided by the following modules:
Heavy-Duty
Medium-Duty
Heavy-Duty
CAT
Cummins
Detroit
International
Mack and Volvo
Paccar
Bendix
Wabco
Ford
GM
Hino
Isuzu
Sprinter
---
General Features:
-Displays fault codes for all components on the supported data bus protocols.
-Displays manufacturer flash codes and descriptions for faults when available.
-Provides key data points in graphical displays for vehicle and components.
-Prints reports containing faults and key data.
-Automatically displays all component parameters of interest in the Data Monitor.
-Search, sort or filter capabilities to easily identify parameters of interest.
-Graph parameter changes over time.
-Automatically detects OEM applications and provides convenient methods to launch them.
-Diagnoses all vehicle components in a single application.
-Automatically connects to all supported and available data buses on the vehicle.
-Vehicle Readiness List displays information about each identified component.
-Troubleshooting information to help resolve issues connecting to a truck.
-Easy access to JPRO DLA+ Adapter Family test tools to aid in diagnosing connection problems.
-Links to contact Noregon support or sales from within the application.
-Ability to perform customized Preventative Maintenance Inspections. Inspection available in XML format as well as in PDF report format.
-Ability to configure the application to launch at computer startup.
-Demo mode in Vehicle History enables users to explore JPRO features quickly and easily without needing access to vehicles.
-Access to 'What's New' document showing all supported features from the Connection Selection and -Help menu.
-Ability to automatically switch between USB or Wireless when connecting with a DLA+ Wireless or DLA+ 2.0 Wireless adapter.
What's New
JPRO user guide
We will download and install this sofware remotelly on your PC.