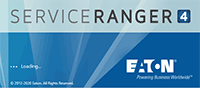 Eaton has become an innovator and leader in diagnostic and service tools for the commercial vehicle market. ServiceRangerÖ is the only recommended tool for servicing an unbeatable combination of the best drivetrain, hybrid power and safety solutions from Eaton Corporation.
ServiceRanger is a computer-based electronic service and diagnostic program that provides access to your Eaton electronic products. With ServiceRanger, you can increase uptime, save money, perform accurate repair procedures, all while increasing productivity and profits.
Some of the major benefits of using ServiceRanger:
View information about the connected ECUs
View active and inactive diagnostic fault codes
View data parameters in real time
View the current configuration of a product
Change product configurations
Program (reflash) product software
Print reports and diagnostic results
ServiceRanger is a computer software program developed by Eaton to diagnose and service commercial vehicle components manufactured by Eaton. ServiceRanger is designed to communicate with vehicle component controllers via the vehicles diagnostic link connection. ServiceRanger complies with the SAE surface vehicle recommended practices for J1587 and J1939 vehicle communications, as well as the TMC RP1210-B communications standard developed for vehicle link adapter communications.
The following products are supported:
Eaton AutoShift/UltraShiftÖ Gen2 Transmissions
Eaton Lightning Transmissions
Eaton AutoShift/UltraShiftÖ Gen3 Transmissions
Eaton UltraShift PLUS Transmissions
Eaton Hybrid Electric Systems
Eaton Hydraulic Launch Assist
Fuller AdvantageÖ Series
Offline documentation included.
We will download and install this sofware remotelly on your PC.