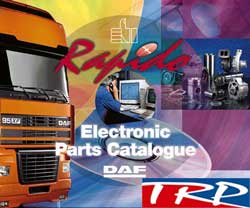 Original factory Electronic Part Catalogue for DAF Trucks. This is the last version of catalogue on the DVD. DAF no longer issue DVDs.
Program contains the full information on all series of DAF trucks, since 70th years, and also the information on axes and a suspension bracket of trailers (Arvin Meritor ROR, BPW, Discos, Gigant, SAF, Trailor, Fruehauf, York Tec Hendrickson, TRP).
VIN search is enabled.
Search by part description is now also possible!
List of Models (Click to Show /Hide)
1260 PP
1260 VS
1260PP
1260VS
1290MX
1CF65
1LF45
1LF55
210-K260
210/K260
220-K360
220/K360
2CF65
2LF45
3CF65
5CF65
5LF55
620 AVM
65CF
6CF65
6CF85
6LF45
75CF
7CF65
85CF
865 AVM
8CF85
8LF45
920 AVM
920 VS
920VS
95XF
95XF 530
9CF85
CABIN
CABINE
CF65
CF65II
CF65III
CF65IV
CF75
CF75II
CF75IV
CF85
CF85 V
CF85II
CF85IV
CF85V
CF85_BRA
CF_*_E6
CF_E6_CS
CF_MX-11_E6
CF_MX-11_E6M
CF_MX-13_E6
CF_MX_E6
CF_PX-7_E6
COMET
COMETBUSKD
COMPONENTS
CONSTRUCTOR 6
CONSTRUCTOR 8
CRUISER
DM-CKD
F1100
F1300
F249 XL
F50
F60
F600 - 800 - 1000
F70
F80
F95 500
FA
FREIGHTER
FRONT AXLE
FTSXF105
FTTXF105
GIN85MX
KP220
KP250
KV250
LF 45
LF 45 BODY
LF 45 IV
LF 55
LF 55 BODY
LF 55 IV
LF NA
LF45
LF45 BODY
LF45 NA
LF45II
LF45IV
LF45IV MEX
LF45IV NA
LF55
LF55 BODY
LF55 EURO3
LF55 NA
LF55IV
LF55IV MEX
LF55IV NA
LF_14-16T_E6
LF_14_16T_E6
LF_18-19T_E6
LF_8-12T_E6
LF_E6_CS
LF_NA
MX
MX EPA04
MX-11
MX-11_E6_CS
MX-13_E6_CS
MX_EPA17
MX_EU
MX_EU5
MX_EU6
PAC67
PEC COMP
PP4001
PR_EU
RAF REFUELLER
REAR AXLE
ROADRUNNER
ROADRUNNER BUS
ROADTRAIN
SB120
SB180
SB200
SB210
SB2100
SB225
SB230
SB250
SB2750
SB4000
SBG220
SBR230
SBR3000
SBR3015
SBR4000
SERVICE
SUPER COMET
T244
TATRA
TATRA T158
TB2175
TBR2175
TRX_EU6
TT2100
XEC COMP
XF105
XF105_BRA
XF95
XF95II
XF_E6
YTZ95
Product Name
DAF PartsRapido
Version

DVD1511
Date of update
11/2015
Price
60 EURO
Download file size
3,43 GB
Languages
English, Deutsch, Italiano, Francais, Espanol, Nederlands
Operating system (OS)
compatibility
Windows Vista 32bit (x86), Windows Vista 64bit (x64)
Windows 7 32bit (x86), Windows 7 64bit (x64)
Windows 8 32bit (x86), Windows 8 64bit (x64)
Windows 10 32bit (x86), Windows 10 64bit (x64)
Expiration
No expiration
Activation
Not needed (unlimited installations on multiple computers)